Blog
4 Genius Oscillating Multi Tool Uses (for Electricians)
Bryan Johansson
Posted on 21st June 2023
Well, hello there! It's your friendly neighbourhood electrician. I want to talk about a tool that's sure to make your life easier – The Oscillating Tool. You may know it as the Multi-Tool, the Oscillating Tool, or a Multi-Purpose Tool. No matter what you call it, this is a fond tool for the electrician and homeowner alike.
What is an Oscillating Multi Tool?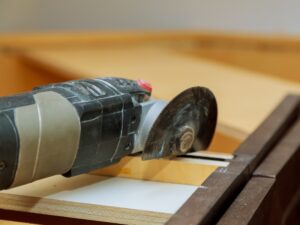 An oscillating tool is so much more than just an oscillating saw. The attachments for the oscillating multi-tool make it essential for any tool kit. These handy units save time and prevent arm/wrist fatigue or injury. This multi-tool saw knows no bounds for a contractor or electrician. Pair it with favoured oscillating multi-tool attachments such as wood-cutting, metal-cutting, precision cutting, and sanding blades. It's a versatile tool that can handle a variety of tasks with ease.
Picture this: You're working on a project, and you need to cut through some tough material. You reach for your trusty saw, but it's just not getting the job done. What do you do? You break out the oscillating tool, of course! With its powerful motor and interchangeable blades, you can slice through pipes, drywall, and metal like a hot knife through butter. But that's not all – the oscillating tool is also great for sanding, grinding, and scraping. Need to remove some old paint or adhesive? No problem. Want to smooth out a rough edge? Easy as pie. With the right attachment, this tool can do it all. As an Electrician in the field, some tasks demand the use of the oscillating cutting tool to be more efficient, clean, and precise. With that, let's talk about recessed lights.
Recessed Lights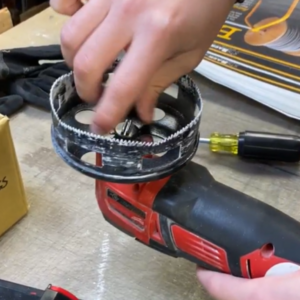 Recessed lights, also known as can lights or pot lights, are a popular and stylish way to illuminate a room. Installing recessed lights can be challenging, especially when cutting holes in the ceiling. This, my friends, is where oscillating tools come in handy. I know what you're thinking… Why wouldn't I use a drywall saw right? Time is money. If used correctly, when cutting in many lights, the time saved using a multi-tool over a manual saw is vast.
With an oscillating tool, you can cut precise holes for your recessed lights without damaging the ceiling. Nothing is as precise as the round multi-tool attachment from Rack-A-Tiers. This add-on is tailor-made to cut precise holes, with no bit skip, in a fraction of the time as many standard methods. My favourite part of this bit is the built-in wire hole. If you already have a wire whip dropped to its location it prevents damage to the wire. Another glaring win for oscillating tool owners is the ease with which you can cut holes for electrical boxes.
Check out the Round Multi-Tool Hole Saw
Enclosure Cutting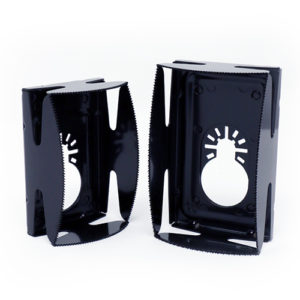 Using an oscillating tool to cut in electrical boxes is a real game-changer. Have you ever tried to cut those things in with a jab-saw? It's time-consuming and oftentimes quite messy. And if you are hoping for a butter-like cut where there is existing plywood, forget about it. With the Q-Bit Enclosure Cutter by Rack-A-Tiers, you can make clean and precise cuts in no time. This little beauty is designed to fit right onto your oscillating tool and can cut out perfect square holes for electrical boxes. Let's talk about those features. It's available in 4 sizes and has a safe design that won't cut you or wires in the wall. The Q-Bit also has its teeth offset for clean and fast cuts every time. So go ahead and cut in those boxes with confidence, and enjoy the sweet, sweet view of a perfectly cut hole.
On top of the main attachments, an oscillating tool can be used for two other helpful purposes: cutting materials and sanding.
Check out the Q-Bit Enclosure Hole Cutter
Material Cutting and Sanding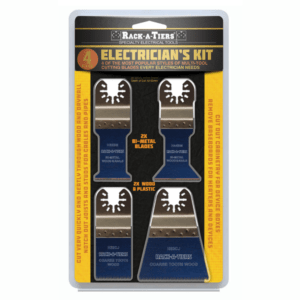 Need to flush cut your PVC pipe run? What about enlarging a hole in plywood? Or my personal favourite…. cuts in cabinetry. For this, I'm going to have to insist on still using the trusty oscillating tool. You can buy full attachment kits to be so precise it will seem like you are using an ultra-powerful cordless jigsaw. Often in the same kit there are blades several inches wide that will allow for perfect flush cuts.
An added benefit is the many kits on the market that come with sanding attachments to help reduce sharp edges and help refine woodwork. The contractor special. Also available through Rack-A-Tiers are the 4 Piece Multi-Tool Blade Set and 5 Piece Multi-Tool Electricians Blade Set. Enclosed in both are several important sizes and multi-material cutting blades to ensure you're ready for any task that arises. To sound unbiased, I should mention the one con to using these mighty tools. There is a high probability that through your enjoyment of these tools, you will wind up with a handful of dull blades that seem useless. But there is no way I will be leaving this blog without a solution for this pesky issue. Enter the Sharp Pog from yet again, the brilliant minds at Rack-A-Tiers.
Keeping Your Multi-Tool Blades Sharp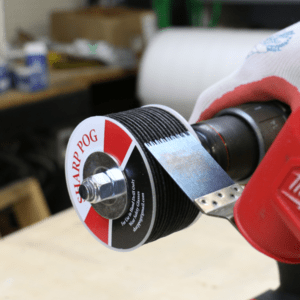 The Sharp Pog is a brilliant portable, blade-sharpening tool designed to attach to any hand drill. What makes this drill attachment so amazing is it sharpens your old, dull blades to their once-natural form and sharpness. Though it will not sharpen carbide-tipped blades, the use of this attachment is as easy as it is necessary. From personal use, I've been able to extend the life of many bits and as well as find its use practical and timesaving. With its simple design of 15 – 3″ diameter metal cutting disks, it saves time and money and for the tradesperson, let's face it, that's gold.
Check out the Sharp Pog Blade Sharpener
Conclusion: Oscillating Multi Tool Uses
When it comes to using an oscillating tool, one could argue I am a fan. Should you not already be using one, you will be soon. When it comes to oscillating tool attachments, there's one brand that stands out above the rest – Rack-A-Tiers. These guys know their stuff when it comes to electrical tools, and their oscillating tool bits and attachments are no exception. So, there you have it, folks – the oscillating tool in all its glory. Whether you're a professional electrician, contractor, or DIY enthusiast, this tool is a must-have in your arsenal. And if you want the best of the best when it comes to time and money-saving attachments, look no further than Rack-A-Tiers. Happy oscillating!