Blog
Auger Bits for Electricians: Our Top 5 Picks
Noah Grizzle
Posted on 12th September 2023
Hey there, fellow electricians and DIY enthusiasts! If there's one thing I've learned during my journey as a seasoned electrician, it's the importance of having the right tools for the job. Auger bits, those trusty companions in our toolbox, can make a world of difference in our work. I'm Noah, a Journeyman Electrician with years of hands-on experience in the field. I've roughed in houses, crawled through attics, worked in tight spaces and faced more tangles of wires than I can count. Through it all, one tool that has consistently proved its worth is the ship auger bit. In this blog, we're diving into the top 5 auger bits for electricians. You might wonder, why trust me? Well, I've walked the path you're on, I've drilled the holes you're about to and I'm here to share insights gained from countless projects where auger bits have been nothing short of lifesavers.
Electricians and Auger Bits
As electricians, we often find ourselves needing to drill precise, clean holes. Whether installing new wiring, running cables through studs, or setting up lighting fixtures, these bits are our go-to solution. The beauty lies in their versatility – effortlessly boring through wood, auger bits are the unsung heroes that help us keep the wire pull quick and smooth. Here are the Top 5 Auger bits of 2023!
Rack-A-Tiers Heavy Duty Auger Bits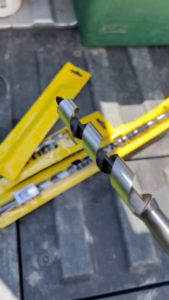 If you're seeking an auger bit that embodies durability, longevity, precision, and versatility, the Rack-A-Tiers Auger Bit is an unbeatable choice. These bits are made of heat-treated high-carbon steel. Don't settle for less when you can equip yourself with the best – Rack-A-Tiers Auger Bits are a game-changer for every electrician and DIY enthusiast.
A unique feature that you will only find on the Rack-A-Tiers Auger Bits is the lowered spur that protects your bits from damage. You'll get way more uses out of these bits than any others and they will stay in perfect drilling condition even as you cut through the odd nail here and there.
✔️ Unparalleled Durability and Strength
✔️ Quality at Affordable price
✔️ Clean and Consistent Results
✔️ Lowered spur prevents damage
✔️ Removes shavings as you drill
Check Out the NEW Rack-A-Tiers Auger Bits
Greenlee Nail Eater® Bit
Offering a range of 10 diameters reaching up to 1-1/2 inches, the Greenlee Nail Eater excels at seamlessly drilling over a foot into diverse wood varieties. From extracting sap from trees to penetrating framing lumber, this tool confidently handles an array of tasks.
✔️ Made in USA
✔️ Designed for wood with nails.
✔️ Spiral Flute Design: Clears debris and prevents clogging.
Makita Auger Bit D-35891
The Makita Steel Ship Auger Bit is a good choice for those needing a long, heavy-duty bit to drill large holes in soft wood. It is made from high-quality steel that flexes and features a spiral flute design that helps to clear chips and debris.
✔️ Includes commonly used diameters
✔️ Sharp blades
✔️ Self-feeding design
IDEAL Electrical Auger Bits
The IDEAL Electrical Single Flute Ship Auger is a long, single-flute auger bit designed for drilling holes in wood. It features a spiral flute design that helps to clear chips and debris and a screw point that helps the bit to self-feed. The bit is made from high-quality steel.
✔️ Razor-sharp shank
✔️ Single flute design
✔️ Hardened drilling tip
The Milwaukee® Ship Auger Bit
The Milwaukee Ship Auger Bit is a durable and efficient choice for woodworking tasks. It features a 1-inch diameter and an 18-inch length for drilling large wood holes. Its sturdy steel construction, self-feeding screw point, and spiral flute design, coupled with a price of $47, make it a reliable option for various projects.
✔️ Durable and efficient auger bit for woodworking
✔️ Self-feeding screw point
➖ Pricier than most
Conclusion: Rack-A-Tiers Auger Bits Make Boring Holes Less Boring
In electrical work, the right tools can make all the difference. Auger bits stand out as indispensable companions for electricians and DIY enthusiasts alike. As a seasoned Journeyman Electrician, I've encountered countless scenarios where these bits proved their worth. They aid in precision drilling, smooth wire pulls, and versatile tasks. Leading the pack are the Rack-A-Tiers Auger Bits which combine excellent features, quality, and price. They're a no-brainer and will become your go-to ship auger bits.
Whether you're an electrician in search of precision, a DIYer aiming for versatility, or anyone who understands the value of a perfectly cut hole, these top 5 auger bits for electricians promise to elevate your projects. So go ahead, equip yourself with the right tool, and drill into a world of smoother, more efficient electrical work.
See Our Full Line of Auger Bits & Accessories