Blog
How to Fish Wire Through Walls: An In-Depth Guide
Jordan Clayton
Posted on 4th July 2023
Fishing wire through walls always starts with a fish tape of some type. Fishing wire is usually taught within the first year of apprenticeship. But this depends on whether you're doing residential, commercial, industrial, or service work. At any rate, fishing wire is a valuable skill. It's important to learn the tips and tricks so you don't have a struggle-fest each time you perform the task.  
What is a Fish Tape?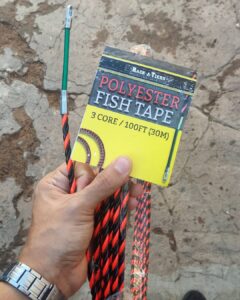 If this is your first rodeo you may ask "What is a fish tape"? Fish tape comes in many different forms. The main type is a wound flat steel tool about 3/16" wide used to "fish" wire through small holes, within stud bays, through concrete block, or drop ceilings. The material of the fish tape depends on if you're running into energized panels or conductors. If it is a new construction or if you are certain there are no energized conductors, you can use steel fish tape can. If there are energized conductors in the path or the condition of the conductors is unknown, you should use fibreglass or polyester fish tape. They come in varied lengths to cover an array of different run lengths.  
Check out Rack-A-Tiers Fish Tapes
How to Fish Wire Through Walls Using a Fish Tape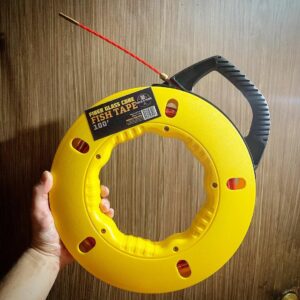 Another question may be "How to use fish tape"? You start by visually mapping the route to get the wire or cable from point A to B. This likely involves drilling holes through framing members or structural materials, like wood, metal, concrete, or block. At certain points, what I refer to as "pinch points" (where, say, a wall meets a ceiling at a 90-degree angle), you will need to cut the drywall. This helps prevent the fish tape or the wire from bending. There are products that'll help with drilling these holes without cutting a bunch of holes in the drywall. If the home or business owner wanted a ton of holes, they'd just do the wire run themselves!
First off, a good flex auger bit is priceless, my favourite bits for fishing are by far flex auger bits. If you go this route, then Bumper Balls are a must. Bumper Balls prevent "bit walking", which is when the bit jumps and changes trajectory while drilling blindly. Naturally, when this happens, the bit will go to unexpected places! Without Bumper Balls you may be trying to drill through two stud bays in a wall and end up going through the top plate of a floor underneath your surface. That's never fun!  
Bumper Balls in Action
How to Use Fish Tape
Once you plan your route and drill all your holes, start pushing your fish tape from your start point to your endpoint to prepare for the wire pull. If your start or endpoint is in a panel it is best to start (or end) one hole before your entry connector into the panel, this will make the pull much easier. Also, be mindful of the state of the panel, if it's energized use fibreglass or polyester fish tape. I must nail that point home as it's important not to send conductive materials into energized equipment, keeping safety first.
Pushing the fish tape may become difficult depending on the wire pull route. To not make unnecessary holes on these difficult runs I recommend the use of the Magnepull. This method will work on fiberglass or polyester as well since it includes a strong magnetic bullet leader (this thing is STRONG). The Magnepull has changed the way my team pulls wire; I don't pull wire without it! Our customers really appreciate a finished project without having to hire a drywaller to patch holes. It's stuff like this that'll set your company apart from the pack of contractors out there.  
Fish Tape Head Tips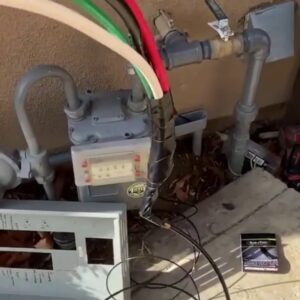 Now, thanks to the Magnepull, you have your fish tape at your endpoint without any holes, don't pat yourself on the back yet though. Here comes the tricky part, actually pulling your wire set. We start by making up the head, this is the most important part of the wire pull. The head is the attachment point from your wires to your fish tape, and it is crucial because if it's too loose it'll come off during the pull. If it's too stiff it won't glide through the holes or make any bends on the route to the endpoint. There is definitely a sweet spot to making up the head, you want it tight enough to not pull off but flexible enough to make the twists and turns necessary.
I recommend watching a few YouTube videos (search "fish tape head") about this subject as a visual will save a lot of sweat from pulling and losing your wires in the wall! Staggering your wires makes for a slimmer more flexible head. I also recommend stripping about ten inches off a couple of your wires if you're running single conductors. You can use one of your stripped wires to wrap around all the others and then through the fish tape eye loop if the hole size permits. This will strengthen the head while keeping it flexible.  
How to Pull Wire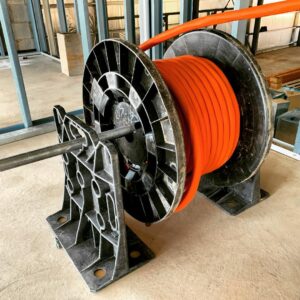 We are ready to pull the wire! This helps to have a team of two, one to feed the wire and one to pull the fish tape. This isn't always practical, but there are tools to make it happen. I pull wire by myself all the time using these: first is the Rack-A-Tiers Wire Dispenser. This can eliminate the need for another person on the feed side whether you're running NM or single conductors. Next is for larger single conductors, the Wire Tub allows you to pull quite large conductors and not just one single conductor either. I've run multiple #6 conductors in one tub! On a 240V circuit (w/ neutral) I ran my two hots in one tub and my ground and neutral in the other. It pulled like a dream.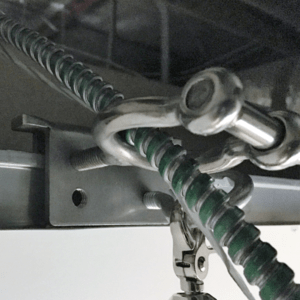 Finally, The Jimbo allows you to fasten onto a metal jbox, enclosure, angle iron, or panel, and pull without snagging on corners or nicking your insulation and causing a short or ground fault when you go to energize your circuit. These tools are next level and changed my team's capabilities allowing us to spread out on more projects and increase workflow. Even if you're a lone ranger electrician you won't have to hire a helper on your next wire pull! 
Fish Tape Wire Pulling Tips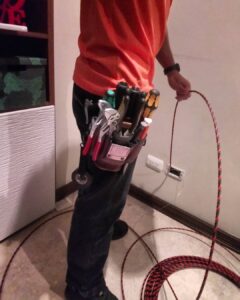 When you are ready to pull the wire there is a certain pace that goes into the pull. This is the same for if you are on a pull team or by yourself. If you have someone on the other end feeding the wire, put them on speakerphone so you can communicate with each other. As they feed the wire you pull, there is a definite rhythm to it when you get into the swing of things. If you're by yourself you pull in that same rhythm, when you come up to bends and feel the resistance you have to push before the bend and pull steadily to pass it. This is where some finesse comes in, you have to pull hard enough to get past bends but not pull it like a winch and break the wire loose from the tape. See why the head is so crucial?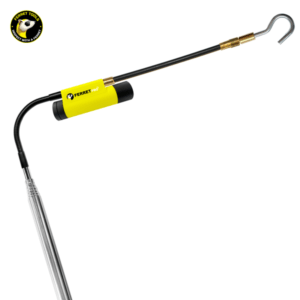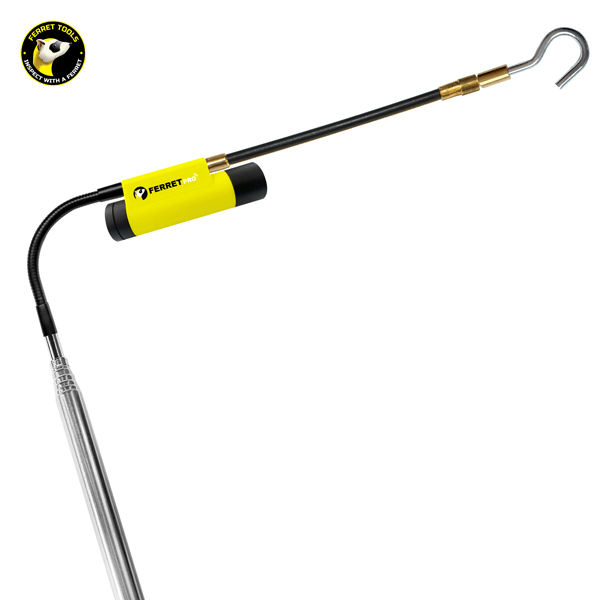 If you get to a bend or turn that you feel you can't overcome, then a Ferret Pro comes in handy. You can send this in on a fish stick to see exactly what is binding you up or what you're getting caught on. Once you have eyes on it you can break free from the blockage or figure out an alternate route. This blockage may be batt insulation, a fire block stud, plumbing, service conductors like SER, or a simple nail or screw protruding through a framing member.  
See all our Fish Tape Accessories
How to Fish Wire Through Walls – Conclusion
So, as you can see quite a bit goes into fishing wire through walls and it can get very difficult! Rack-A-Tiers makes so many wire pulling tools to make the job at hand as easy as it could ever be without a tugger. They make many other tools for electricians, and they have changed the way we do business. If you're reading this blog, I'd imagine you know about some of the next-level tools Rack-A-Tiers offers. If you don't already have some of the wire pulling tools I mentioned above I highly recommend you grab them. They can change a nightmare wire pull to a job you can now pull off by yourself. No company in the industry has tools that can make a difference like these do. 
Interested in reading more about wire fishing and pulling? Check out some of our other blogs:
How to use a flexible drill bit for electrical work (by an Electrician)
Fix Your Fish Tape End With Fish Heads
The No.1 Wire Dispenser- The Rack-A-Tiers