Blog
Best Wire Strippers: Rack-A-Tiers vs Klein Tools
Jordan Eustache
Posted on 6th September 2023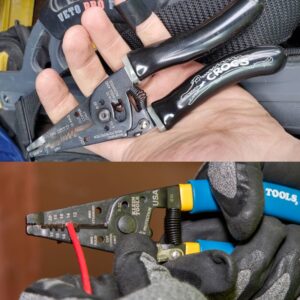 In the world of electrical work, the quality of your tools can make a massive difference in the efficiency and accuracy of your tasks. In this article, we'll be taking a close look at two popular wire strippers: The Croc's Needle Nose Wire Strippers and the Klein Tools 11055 Wire Stripper. Wire strippers are an essential tool for any electrician, tradesman, or DIY enthusiast. Understanding their features and capabilities can help you make the best decision when filling up your toolbox. We'll be comparing them across a variety of features to figure out which tool is the best choice for your needs.
Wire Stripping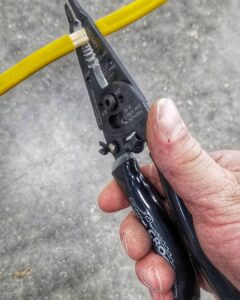 Klein is a ubiquitous name within the electrical field. As the saying goes, "If it ain't Klein, it ain't mine!" But when it comes to wire stripping, the Croc's cable stripper takes the lead with its impressive capabilities. It stands out for its ability to handle a wider range of wire sizes compared to the Klein Wire Strippers. Croc's strippers can handle #10 – #22 AWG wire for most jobs that you will see as an electrician or HVAC tech. The Klein wire stripper only handles #10 – #20 AWG wire.
Additionally, the Croc's model boasts a unique feature: the NM Cable stripper. This makes stripping Romex cable a breeze when roughing in residential projects. We all know that nothing is worse than energizing a circuit, finding a short, and later discovering that it was from a skinned conductor. Hand your apprentice some Croc's strippers to save everyone from a long day of troubleshooting. This tool saves time and time is money. This added functionality ensures that the Croc's wire strippers win this category hands down. Stick around until the end to see how the Croc's set themselves apart from competitors.
Winner: Croc's Needle Nose Wire Strippers
Wire Cutting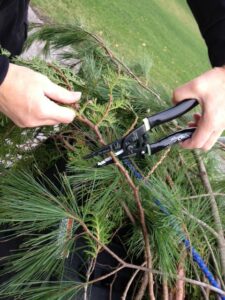 In the cutting department, both the Croc's and the Klein 11055 Wire Strippers showcase similar cutting blades. Both tools come equipped with a standard cutting blade for cutting wire, jet-line and anything else you can think of. They also come equipped with bolt shears to make cutting 6-32 and 8-32 bolts quick, clean, and safe.
Winner: It's a Tie!
Wire Crimping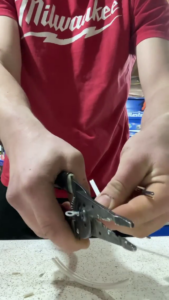 The Rack-A-Tiers Croc's Needle Nose Wire Strippers gain another edge with its quick barrel sleeve crimper. Low voltage control work just got a lot easier with this tool. Attach spade connectors without having to switch between the strippers and the crimper. This built-in crimper adds versatility to your wire stripper. It allows users to seamlessly transition between stripping and crimping tasks. Do you want to carry another tool in your pouch or workbag? Ounces turn to pounds and pounds add up. With the Klein tool lacking a crimper altogether, the Croc's wire strippers secure a clear victory in the crimping category.
Winner: Croc's Needle Nose Wire Strippers
Needle Nose Pliers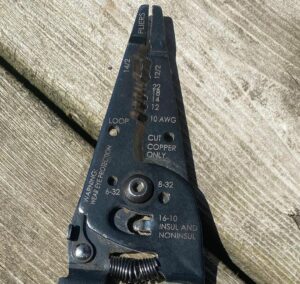 Reaching into tight spots is a daily routine for electricians and other skilled tradespeople. We're all familiar with the struggle of trying to coax wires from the far corner of a junction box through a mud ring. A reliable pair of needle-nose pliers can make all the difference in situations like these. I mean, no one's saying it's an impossible feat to get to those wires. But take a moment to imagine how much smoother and faster things could be by grabbing what you need right when you need it. Enter the Croc's. It steps up the game with its elongated needle nose design. This extra length means you've got better precision and access to tight spaces, essentially putting the Croc's tool in a league of its own. Because, let's face it, when you're dealing with reach, who wants to fall short?
Winner: Croc's Needle Nose Wire Strippers
Price
While price often plays an important role in buying decisions, it's important not to overlook the importance of value. The lower bid is not always the best, and the same idea should apply to buying tools. Nonetheless, the Klein Wire Strippers gain an advantage in this category by being the more affordable option. But after considering the crimping feature and longer nose, are the Klein Wire strippers really the best deal? That question is for you to answer.
Winner: For budget-conscious users, Klein emerges as the winner
Comfort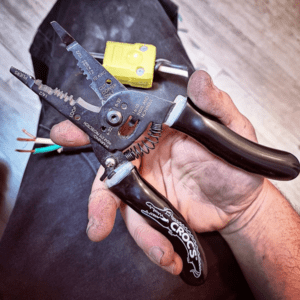 In the realm of comfort, the Croc's gain the upper hand. Its ergonomic, glow-in-the-dark handles with well-designed curves provide a more comfortable grip, reducing the strain on your hands during extended periods of wire stripping. Completing a trim out can be strenuous on your hands in an 8-, 10-, or 12-hour day. This enhanced comfort level leads to less hand pain and fatigue. This means that you can keep pace when working through the day, making the Croc's wire strippers the winner in the comfort category.
Winner: Croc's Needle Nose Wire Strippers
Size
When it comes to size, the difference between these two tools is small. The Croc's are a bit larger than the Klein Wire Strippers but when you factor in the added functionality, they may be worth the larger size. Inch for inch, the Klein tool takes the win in the size category due to its more compact design. However, if you want to enjoy the comfortable and feature-packed design of the Croc's but in a smaller size, Rack-A-Tiers also offers the Croc's Jr. Wire Strippers. Plus, the Croc's Jr. can strip AWG #8 – #22!
Winner: Klein Tools 11055 Wire Stripper & Cutter
Bonus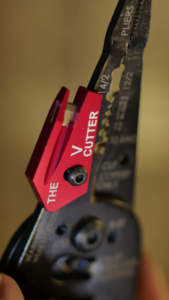 The Croc's have an optional V-Cutter blade attachment for splitting NM cable when making up a panel. No more switching between a set of strippers and a sharp knife. The V-Cutter attachment minimizes skinned wire and wasted time.
The Best Wire Strippers for Electricians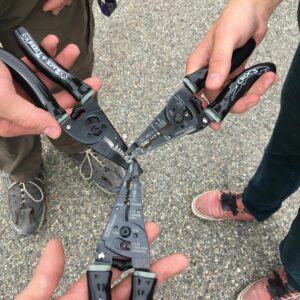 In this comparison, both the Croc's and Klein 11055 wire strippers show their strengths and weaknesses. While the Croc's excel in wire stripping, crimping, plier design, and comfort, the Kleins shine in affordability and size. Choosing between the two tools depends on your specific needs, priorities, and budget. If you want a pair of wire strippers that will have your back in almost every situation, then you can't go wrong with Croc's Needle Nose Wire Strippers.
Overall Winner: Croc's Needle Nose Wire Strippers