Blog
10 Must Have Industrial Electrician Tools in 2023
Bryan Johansson
Posted on 17th August 2023
Hello Electricians! I'm writing to you about a topic I closely relate to as an electrician and one I have a lot of fun with. This blog is speaking to current and future industrial electricians and folks looking to gear up for future jobs in environments such as mills, mines, switchgear yards, or any industrial environments. That means one thing, new tools! To remain efficient and stay relevant it's important to not only have electrical tools and equipment pertinent for the job, but also the best electrical tools for your specific environment. Let's dive right in. Here is a list of 10 must-have industrial electrician tools.
Aerial Tool Bin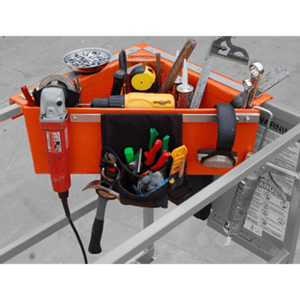 Now this first, and especially important item here is a clear favorite from those who have been lucky enough to use one. Introducing the Aerial Tool Bin brought to you by the innovative minds at Rack-A-Tiers. This thoughtful gadget attaches to square or rounded 90-degree corners of scissor lifts, boom lifts, aerial lifts, and railings with two strong locking bolts. The Aerial Tool Bin is a safe and efficient way of storing your electrical tools at waist height while on a variety of lifts.
Check out the Aerial Tool Bin
Ropematic Pro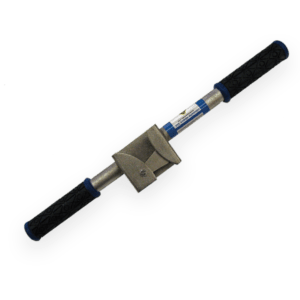 Now this innovative tool is truly a hand-saver. Pulling twine, mule tape, hydro string, fish tape, and rope can be quite detrimental to the hands often pinching and burning the skin should you chose not to wear the proper PPE. In the electrical world, it's a cardinal sin to stop the pull so, we grin and bear. Many reading this will be content with linesman or using an off-cut of EMT, but the Ropematic Pro eliminates this issue with speed and ease. The latch automatically locks onto your rope as you pull and unlocks as you slide the Ropematic Pro back down the rope. It's effortless and will cut your pull time in half leaving you with plenty of time for the next task at hand. With its two cushioned handles and steel body pulling hard through 90's and pulling multiple feet at once will make this tool a game-changer!
Check out the Ropematic Pro Rope & Fishtape Puller
Big E-Z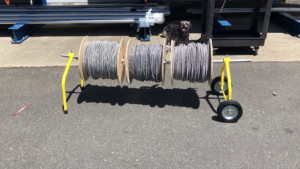 Trending in the direction of essential electrician tools, let's jump to the "Big E-Z," from Rack-A-Tiers. A method to pull wire and cable is one of those must-have items in the electrical world. This wire-carrying delight's big selling feature is the ability to roll 300 lbs., 32″ diameter wire spools around the job site. Now I know first-hand that a lot of industrial wire may go beyond that. But let's not toss aside the unsung heroes of this environment: rope pulls for pulling said cables. Also worth the mention are service plugs, PLC wiring, small compressor wiring, and armored cable are where the Big E-Z shines. Just throw your rolls on this bad boy and wheel it around to your heart's content.
Check out the Big E-Z Wire Dispenser on Wheels
Rack-A-Tiers Wire Dispenser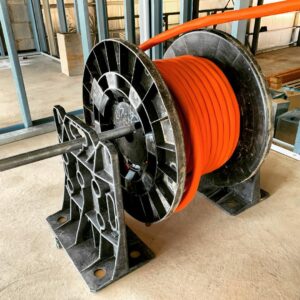 In the vein of my previous wire-pulling example, a "Must-Have" list would be incomplete without the mention of the Rack-A-Tiers wire dispenser. Allowing a 34″ spool onto the rack, and boasting up to 300lbs of support, this unit is no joke. It has several holes to adjust for wire size and works perfectly for dispensing wire. Plus, you can use it as a makeshift sawhorse for cutting wood or conduit, a pipe vise with its thoughtful V-notches, or as a workbench. Wire your PLC cabinets in style and then take a load off and set it up as a seat to take a break and marvel at your amazing wiring. Oh, and did I mention there is a Rack-A-Tiers XL available? That's right, dispense even bigger and heavier reels. 40″ diameter? 500 lbs.? The Rack-A-Tiers XL handles that with ease.
Check out the Best-Selling Wire Dispenser of ALL TIME
The Bulldog Original Bender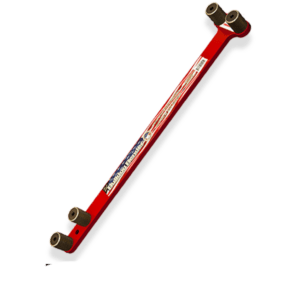 If you haven't come across this godsend of a tool I implore you to head right to Rack-A-Tiers website immediately and type in "Bulldog Bender." Click on it, hit add to cart, and thank me later. This is one of my personal favorite tools in my arsenal. Bend up to 500 MCM cable with ease with this ingenious piece of craftsmanship. Available with smooth or knurled dowels this tool has two sides that can be used to bend large cables in all of the tight spaces thrown at you. Never again struggle to bend wire and cable in smaller-sized disconnects and raceways. Let's also not ignore the glaring positive of molding cable to fit better in LB's and transfer switches with limited space. Bulldog or bust.
See the Full Line of Bulldog Wire Benders
Crocs Needle Nose Wire Strippers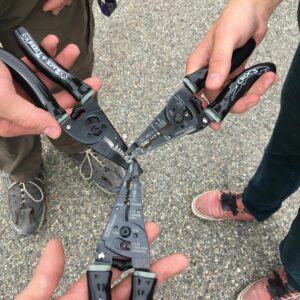 An item that needs no introduction is this stellar electrician hand tool that strips, crimps, and cuts. "The Croc's" from Rack-A-Tiers plays second to none in the way of electrician wire strippers. Still my favorite pair, this ergonomic wire stripper can strip standard AWG #10 – #22 wire and 14/2 and 12/2 NMD using razor-sharp wire stripping blades. These bad boys cut 6-32 and 8-32 machine screws, have a barrel sleeve crimper for terminal connectors, and ergonomic glow-in-the-dark handles. Good for any industry, this is one of the best electrical tools on the market.
Check our the Croc's Needle Nose Wire Strippers
Carbide-Tipped Hole Cutter Kits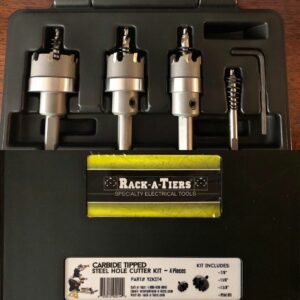 You'd be hard-pressed to terminate any cables if you cannot enter the wires into a panel. For this, you need something for cutting mild and stainless steel. Maybe an electrical tool with a flange to prevent over-drilling to account for many cuts and sizes? You already see what I'm getting at, a Carbide-Tipped Hole Cutter Kit. These kits available on the Rack-A-Tiers website come in two sizes. The 4-piece set includes 7/8″, 1-1/8″, and 1-3/8″ sizes and a pilot bit. The 8-piece set includes 7/8″, 1-1/8″, 1-3/8″, 1-3/4″, 2″, 2-1/2″ sizes and 2x pilot bits. As an electrician, you can't put a price on these sets as they are invaluable and essential. Lucky for us Rack-A-Tiers can, and it's competitive, modest, and won't leave you eating only slices of bread till the next payday.
View all our Carbide Tipper Hole Cutters
Dirt Bag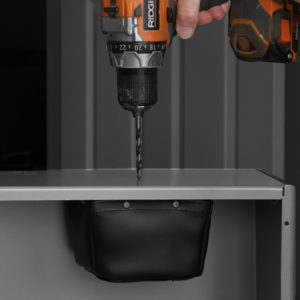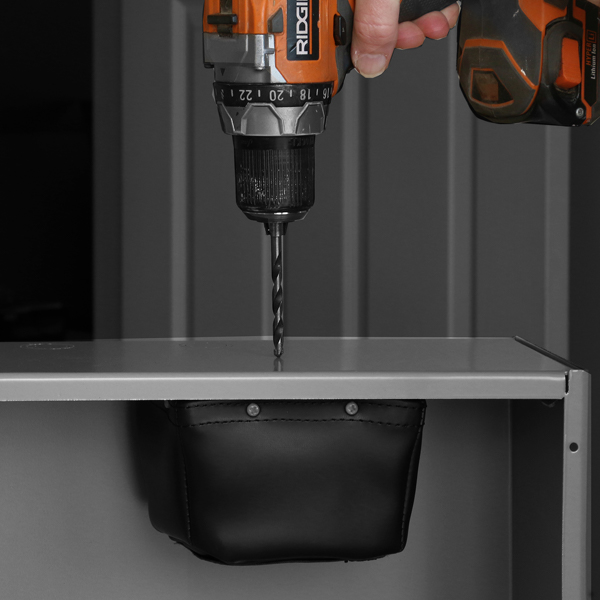 If you've ever been in the trenches, drilling away while desperately trying to catch those pesky metal shavings, you know the struggle is real. But fear not, because I've got the ultimate solution – the Dirt Bag! This nifty magnetic chip collector is a game-changer. No more juggling a cardboard box with one hand and your drill with the other. Trust me, it's neither safe nor effective.
The Dirt Bag does the heavy lifting with its rare earth magnets that cling to metal surfaces like a champ. It's like having an extra set of hands, but way more reliable. And the best part? It catches every single metal chip, so you can focus on making those precise cuts without worrying about a mess.
Cleaning up is a breeze too! Thanks to the removable magnet slot, you can quickly dump the shavings and get back to business. Say goodbye to the chaos in your electrical panel and hello to a clean, organized workspace. The Dirt Bag – because even electricians deserve a little less hassle on the job.
Experience The Dirt Bag
Tug Wise Extreme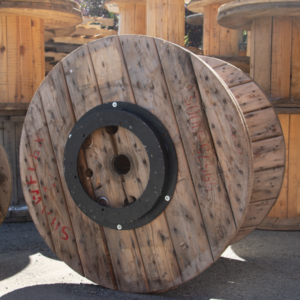 Let me tell you, this thing is a beast! It's like the big brother of the Tug Wise Superior, capable of handling up to a whopping 6,000 lbs. of cable reels. That's some serious power, right there. The best part? It's designed like a "Lazy Susan." Just screw it to the bottom of your wood or plastic reel, flip it over, and voila, you're ready to pull cables like a breeze. No more wrestling with those heavy reels!
But here's the real kicker – it's not just for the workshop. This bad boy is a perfect fit in the back of your truck too. So whether you're on-site or on the move, the Tug Wise Extreme has got your back. Say goodbye to the hassle, and hello to efficiency. If you're in the electrician game like me, you need one of these in your arsenal ASAP. Trust me, it's a total game-changer.
Try the Tug Wise Extreme
Allen Head Driver Bit Kit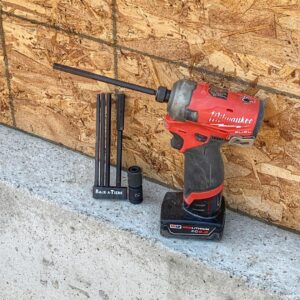 When you need industrial-grade bits of the Allen head variety for panel terminations, miscellaneous connection points, or fasteners, then this set is a must. Treat yourself to a 1/4″ hex shank, quick connect design. These high-quality hex key Allen bits are 6″ long for increased versatility. They also include a 3/8″ socket adapter which I'd recommend for panel terminations instead of running them in with your impact driver. Available sizes include 3/16″, 7/32″, 1/4″, 5/16″ and 3/8″.
Check out our High-Quality Allen Head Driver Bit Kit
Conclusion: The Best Tools for ANY Industrial Electrician
Well, let's call it a day. Thanks for staying tuned and reading about some amazing tools with me. My hope is you learned something and saw something you would enjoy, or at the very least appreciated I'm promoting using a socket vs. an impact driver for panel lugs. Enjoy your work in an industrial environment. Be safe and feel confident using the right tools of the trade. Cheers.
Want to learn about some of our favourite tools for Residential and Commercial Electricians? Read some of our other blogs:
10 Tools for Commercial Electricians
7 Tools for Residential Electricians